Are you tired of swiping left? If you're looking for a genuine committed relationship that will lead to settling down with someone you love, modern-day dating apps can be disheartening.
Launched in 2000, eharmony is one of the most popular dating sites around and it's known especially for attracting singles seeking serious, long-term relationships.
With over 10 million users spanning 200+ countries, the eharmony member base is ethnically and religiously diverse and sports a broad spectrum of singles of all ages.
Using data taken from a compatibility test every member has to take, an algorithm suggests suitable matches from a specific, selective pool.
Founder Dr. Neil Clark Warren believed that the healthiest relationships seemed to be based on a high level of compatibility between partners.
eharmony has since developed into one of the most popular resources for singles all over the globe looking for marriage or a serious relationship with somebody who they connect with and with whom they share common core values.
Key Features
Patented Compatibility Matching System
Unique compatibility wheel and compatibility score, based on a personality test
51% women, 49% men so pretty balanced single base
Impressive success rates
Suggested matches made by a data-based algorithm
Messaging and video chats available
You can begin setting up a free eharmony profile by putting in your name, gender, and contact details, and upload some photos.
You can then take a personality test and a 32 Factor compatibility quiz. This optional quiz includes questions about your dating preferences, long-term goals, personal beliefs, and communication styles.
According to the site, by filling out this questionnaire you "'help… build a comprehensive personality profile of you and work out which… members you will be deeply compatible with."
You can also verify your phone number through an easy 2-step process so potential matches feel more secure messaging you.
Matching & Communicating with Others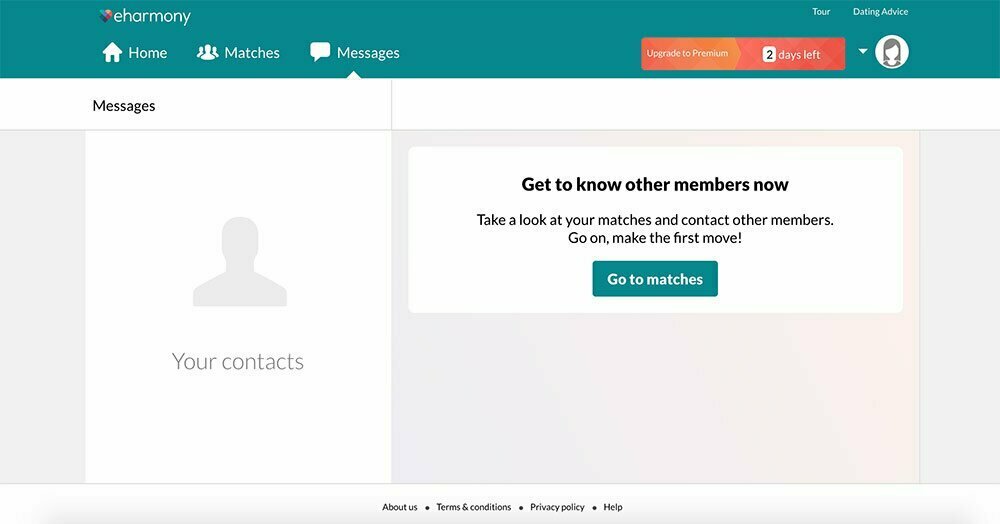 If you're tired of browsing dating sites in search of profiles that catch your eye, eharmony may be the perfect solution to your woes.
Based on the answers on your profile, the site algorithm delivers suitable matches to your Suggestions and you can then filter through these quality options.
Only paid members can read and send messages, though.
Premium members can now communicate via Video Chats and are encouraged to Video Date before meeting up in person – reducing the stress and pressure of awkward first-time dates.
Website Design & Ease of Use
The website layout is user-friendly and inviting. It's pretty self-explanatory and it's simple to begin filling out your profile.
A minimalistic design with a warm but softly muted color scheme ensures that the site doesn't get too overwhelming.
The eharmony app was founded in 2010. Now users can browse through potential matches and communicate on the go, wherever they are, from their phone.
User reviews on Google Play and Apple give pretty positive feedback about the overall app layout and design, though many also complain that most features are hidden behind a paywall.
If you're willing to invest the fee for a chance at finding The One, the app is just another convenient feature that can ease your search.
Success Rates
The site has some pretty impressive success rates, with 15 million matches a day and 542 people a day getting married because of eharmony.
According to the site's stats, 71% of women and 65% percent of men find their partner within a year of using eharmony.
Those are some pretty encouraging numbers!
Fake Profiles and Scammers
Scammers and fake profiles are a phenomenon found on most dating sites because there's no sure-fire way to eliminate fakes hiding behind a screen.
eharmony is probably safer than most dating sites because its mandatory questionnaire deters users from creating fake accounts – it's a lot more work!
Still, there can be scammers looking for your personal info and you should use discerning judgment when you receive messages from members.
Security
eharmony promises that their "Trust & Safety team works hard to ensure that you have the best possible experience" and that accounts are routinely reviewed for inconsistent information or suspect behavior.
The site also claims to screen users against criminal registries to help ensure nobody dangerous is using the site and has a profile.
They also use a secure messaging system where you text potential matches.
Cost of eharmony
The free account allows you to take the personality test and create a basic profile. You also get unlimited matches, the ability to send and receive Smiles, Icebreakers, & Greetings, as well as respond to a paid member reaching out to you – but only the first message.
You can also browse anonymously and see recent visitors to your profile.
The Premium Plan gives you access to:
Enhanced search features
Unlimited messaging
Unlimited browsing of members' photos
Access more matches
To pay for the Premium Membership, you have different options:
The Premium Lite is a 6-month membership, coming out to $65.90 per month. The plan is available for a one-time payment or 2 or 3 payment installments.
The Premium Plus membership is 1 year long and will cost you $45.90 monthly. You can also pay it all in one lump sum, or break it up 3 payments.
Premium Extra is 2 years long and comes out to the lowest cost per month, at $35.90.
It's also worth knowing that eHarmony frequently runs sales for as much as 50% off but they're only posted once you create a free trial account.
How to Cancel eharmony
Whether you need a break from dating, found an amazing partner you feel ready to settle with, canceling your eharmony membership can be done with the following easy steps:
Log into your account.
Click on your profile picture in the top bar.
Click on "Account Settings"
Click on "Billing".
Scroll down until you reach the "Subscription Status" section.
Click on "Cancel My Subscription".
Follow the instructions
Customer Support
You can get in touch with customer support at this toll free number – (844) 544-3181.
And if you don't feel like calling, you can always shoot them an email or fill out the contact form on their website under the "Contact Us" option.
Some Tips For Creating a Killer Eharmony Profile
Be honest – vulnerability and straightforwardness are always attractive and help you in the long run.
Share your experiences instead of just your interests – experiences help form our personalities, triggers, and pearls of wisdom. Let potential matches know about the places you've traveled to, your volunteering attempts, and your career successes (and maybe blunders).
Have a friend look through your profile before posting – choose someone that's not afraid, to be honest, and who knows you well.
Bottom Line
If you've been feeling lonely or dispirited lately, it may be worth trying out a new approach to dating.
With an online dating service that uses an objective and effective algorithm, you get the opportunity to find singles that are outside your area or social circles.
Creating a profile that's true to your personality and long term goals can be a little bit of a challenge, but it's also an opportunity for you to explore what you're really looking for and the values you align with.
If you're ready to take that plunge, eharmony has the science and success stats to back the decision to invest in a membership.
Have fun, stay safe, and be true to yourself and your needs.
With a little bit of data, technology, relationship science, and that special spark of luck, you can hopefully join the ranks of success stores in due time! Also, check out our review of eharmony vs Match.com here!